Sinn Fein 'get loyalist threats' over Mary McArdle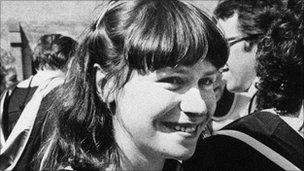 Sinn Fein has said Gerry Kelly, Caral Ni Chuilin and her newly appointed special adviser, Mary McArdle, have received death threats from loyalists.
Mr Kelly said they took the threats from the "Orange Volunteers" very seriously - but said Ms McArdle would not be withdrawing from her post.
McArdle was part of an IRA gang that shot and injured magistrate Tom Travers and killed his daughter Mary in 1984.
Mary Travers' sister Ann condemned her appointment as a special adviser.
Mr Kelly said his party would be willing to meet the Travers family - but attacked sections of the media for their focus on the story.
He said thousands of republicans had gone through jail.
"Are you going to say that none of them deserve a job?" he said.
"Let me be critical of the media - and I don't like being critical of the media - as far as I heard from Ms Travers she didn't even know about this until it was raised with her by the media."
On Thursday, Ms Travers said: "I would happily meet Gerry Kelly, but I'll happily meet him after Mary McArdle stands down.
"I know what would happen if I went in to meet Gerry Kelly, he would start to bully me and he would be telling me all about the Good Friday Agreement."
She added: "I am happy for Mary McArdle to have any other job within Sinn Fein, one that's not paid for by the taxpayer.
"She is an unelected convicted murderer going into a highly paid job up at Stormont and I think that is just morally wrong."
Commenting on the loyalist threats to Sinn Fein, the police said: "The PSNI does not not comment on named individuals.
"Police are investigating a series of threats made to senior members of Sinn Fein. Police are taking these threats seriously and enquiries are ongoing."
Earlier on Thursday, DUP East Londonderry MP, Gregory Campbell said Sinn Fein should have rethought the appointment in light of the pain it had caused the Travers family.
"I would have thought that given the reaction there has been, that Sinn Fein would have said we have made a decision on reflection that we will revisit the decision and appoint another person," he said.
"I strongly suspect they won't, let us be absolutely unequivocal here."
The SDLP's Alban Maginnis said Sinn Fein had shown no concern for the Travers family whatsoever.
He said the issue of Mary Travers' murder had been raised during the Irish general election earlier this year.
"You'd need to be deaf and blind not to realise that this would re-emerge as a very sensitive public issue," he said.
"I cannot understand how Sinn Fein did not foresee this, or perhaps they did foresee it, but thought 'we can do what we like'."
First Minister Peter Robinson described the appointment as "insensitive and a mistake".
Writing on Twitter the DUP leader said Sinn Fein should recognise the "hurt" felt by Ms Travers' family.