Corporation tax cut could bring 4,500 jobs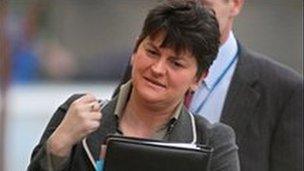 An influential economic think tank has said cutting corporation tax could lead to almost 4,500 new jobs being created in Northern Ireland each year.
The Economic Advisory Group report said without radical policy change it could take a decade before employment levels recover to what they were in 2008.
However, it said a cut to 12.5% could cost the executive up to £240m a year.
Earlier, the enterprise minister said a decision on devolving tax powers could be made towards the end of the year.
Arlene Foster was giving her first-day brief to the enterprise committee.
She said she endorsed reducing the rate which would be a "radical change needed for the Northern Ireland economy".
The current corporation tax rate in the UK is 26%, compared to 12.5% in the Republic of Ireland.
Low rates of corporation tax - the amount of tax companies pay on their profits - are considered an important means of attracting overseas investment.
Mrs Foster referred to a report issued by Westminster's Northern Ireland affairs committee on the previous Monday as well as the Economic Advisory Group's report.
She said both were supportive of reducing corporation tax but neither was prescriptive as to the rate.
Committee chairperson Alban Maginness agreed there was a "political consensus on devolving power to the Northern Ireland Assembly in relation to corporation tax".
The Economic Advisory Group's Kate Barker said: "The key point we are making in this report is that a substantial cut in corporation tax is the only way we can see that you would, over a reasonable time period, be able to put this economy on a better growth path, pushing up employment and really improving people's living standards."