Baby Peter: Sharon Shoesmith wins appeal over sacking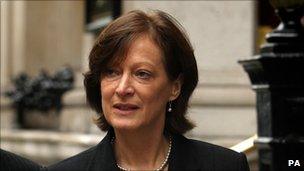 Northern Ireland woman Sharon Shoesmith has won her Court of Appeal battle over her sacking after the Baby P tragedy.
Ms Shoesmith was sacked as director of children's services at Haringey Council in December 2008, after the death of 17-month-old Peter Connelly.
In her appeal, she claimed her dismissal was legally flawed.
Baby Peter Connelly was found dead in August 2007. His mother, her partner and a lodger were all jailed for causing or allowing his death.
He had suffered more than 50 injuries including fractured ribs and a broken back.
Three judges allowed Ms Shoesmith's challenge against a High Court ruling on Friday that cleared former children's secretary Ed Balls and the local authority of acting unlawfully when she was dismissed as director of children's services at Haringey Council in north London.
Her appeal against regulator Ofsted was dismissed.
Peter had been seen by health and social services professionals 60 times in the eight months before he died.
Ms Shoesmith, 58, had asked the appeal court to rule that her sacking was so legally flawed as to be null and void.
Her defence counsel said that the "media storm" following the criminal trial meant Ms Shoesmith had been unable to find to find a job since December 2008 and she experienced suicidal thoughts
Her lawyers argued that she was the victim of "a flagrant breach of natural justice" as she was driven from her £133,000-a-year post by a media witchhunt and political pressure.
Ms Shoesmith was sacked in December 2008 after a damning Ofsted report exposed failings in her department as a result of the case of Baby P.
She said after the hearing: "I'm over the moon. Absolutely thrilled."
Related Internet Links
The BBC is not responsible for the content of external sites.