Legal aid row affects terrorist bomb case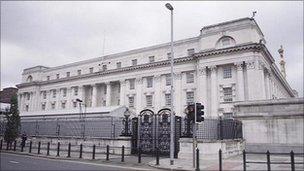 The solicitor of a man accused of involvement in a terrorist car bomb plot has withdrawn from his case due to new legal aid cost rules.
Ciaran Anthony Farrell, 52, is charged with providing a car for the purposes of terrorism on 22 February last year.
His solicitor, from JM Hughes and Co., said the company "did not fully appraise the ramifications" of the changes to legal aid.
The new rules were introduced by Justice Minister David Ford.
Under the changes, fees to solicitors have been reduced by 25%, while barristers rates will also drop by 20%.
Mr Farrell told Belfast Crown Court he was agreeing to his solicitor coming off record, and he has been given one month to find a new legal team.
Judge Tom Burgess told Mr Farrell that due to the serious nature of the charge he faces, he needed to have legal representation.
"I suggest that you take every step possible (to find a new team) otherwise the court will be in a position to move on and I don't believe that will be in your best interests," he said.
The case is due to come back before the court next month, and a trial date has been set for November.
Mr Farrell is the brother of IRA member Mairead Farrell, who was shot dead by the SAS in Gibraltar in 1988.
Mr Farrell was originally charged with causing an explosion at Newry Courthouse in a dissident republican car bomb attack in February 2010.
He is now facing the lesser charge of providing a Renault Laguna car for the purposes of terrorism.
During a bail application at the High Court, judges heard that Mr Farrell was either a member of the Real IRA or closely aligned to it.