HRC fears over 'right to fair trial' in legal aid row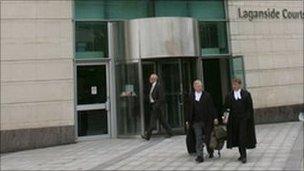 The Human Rights Commission (HRC) has expressed 'serious concerns' over the lack of legal representation for defendants affected by the legal aid row.
More than 140 defendants have been left without representation because of the protest over lower fees.
Justice Minister David Ford has defended the reduction.
However the HRC said people could be denied the right to a fair trial within a reasonable time.
Lower fees were introduced in March. Since then solicitors have refused to take on more than three quarters of criminal legal aid cases due to start in NI.
Chief Commissioner Monica McWilliams said HRC was not satisfied that arrangements had been put in place to ensure that no one was detained or tried without access to professional advice and representation.
"With each day that passes the potential for this situation to lead to violations of human rights is increasing," she said.
"We urge the minister of justice to continue to explore ways of ensuring that representation is made available, and to resolve the matter as soon as possible."
Earlier, Mr Ford defended his position saying he was determined to preserve defendants' access to justice but the legal aid bill was too high.
"Solicitors and barristers have to recognise the reality of the pressure the public purse is under," he said.
However, Pearse McDermott of the Solicitors Criminal Bar Association said defendants would suffer.
"We don't want to be on strike. We don't want to be withdrawing our services... we are professional people who want to be representing our clients," Mr McDermott said.
"The problem is we cannot represent our clients effectively, we cannot guarantee that they receive a fair trial, we cannot do the proper presentation on the figures that are put forward at present."
Legal aid in Northern Ireland is 20% more expensive per head of population than in England and Wales.
The bill for last year was more than £100m.
David Ford met the new justice committee at Stormont for the first time on Thursday and said that figure was not sustainable.
The head of the court service, David Lavery, reinforced that message.
"What we can't do is simply sustain a system that enriched a small number of lawyers in this country," he said.
So what is the difference in fees?
According to the court service, the new NI fees mean that the combined legal bill for solicitors and barristers in a typical three-day Crown Court trial for an offence such as drugs or common assault would be almost £5,000.
For the same type of case in England and Wales, the fees would be just under £2,800.
For a five-day trial for an offence such as murder, the combined legal aid fees here would be more than £20,700.
In England and Wales, the total would be more than £19,200 almost £1,500 lower than NI.
On Thursday, the justice committee backed the minister and approved the new fees structure.
Mr Ford has written to more than 500 legal firms asking if they are willing to take on work at the new rates.