Police 'frustrated' by bomb alerts across NI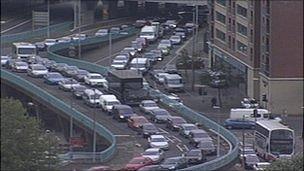 Police have condemned a number of security alerts which brought parts of Northern Ireland to a standstill on Friday.
The PSNI dealt with 14 alerts and closed a number of roads including the M2, M3 and the Westlink in Belfast.
Motorway traffic came to a halt as a controlled explosion was carried out on an abandoned van at Dock Street.
In the latest incident, the rail line between Belfast and Lisburn was closed following an alert in Dunmurray.
Army bomb experts dealt with a report of a suspicious object at a crossing at Ashley Park. However, nothing untoward was found and the line has re-opened.
Police said that Fire Service vehicles and ambulances had been caught up in the traffic disruption with potentially fatal consequences.
Chief Superintendent Alan Todd said that alerts were "clearly designed and deliberately designed to inconvenience the public and to create a very difficult start to what should be an enjoyable bank holiday weekend for the communities across the province.
"We have responded to those incidents and we've done so quickly and efficiently with the object of getting people back on the move as quickly as possible," he added.
"It is frustrating. It has been a frustrating day. But not as frustrating as it would be stuck in gridlock traffic in Belfast city."
Mr Todd criticised those behind the alerts for causing "disruption and mayhem to their fellow citizens".
"The people responsible need to put themselves forward and explain what they have to offer communities across the province, because everyone seems to be at a loss as to what it has achieved," he added.
There were several other alerts in Belfast and Londonderry, which were later declared hoaxes.
ATO examined a vehicle on Brougham Street and carried out a controlled explosion.
Stockmans Way off Stockmans Lane was re-opened after being closed due to a report of a suspicious object. It was declared an elaborate hoax.
A number of people had to leave a shopping centre, during another alert in the Royal Avenue area of Belfast, but nothing was found in a police search.
There were also three bomb alerts in Newtownabbey and one on the Strand Road in Derry, which were all hoaxes.
A suspicious device found at Finaghy Road North in Belfast near the railway line also turned out to be a hoax.
DUP Policing Board Member, Ian McCrea said the people responsible for the disruption were "beneath contempt".
SDLP MLA Mark Durkan said there "was no justification whatsoever for this activity".
Chief Superintendent Mark Hamilton thanked the public for their patience.
"I would like to express his gratitude for the manner in which members of the public responded to hours of disruption," he added.