Kings of Leon headline Slane's 30th concert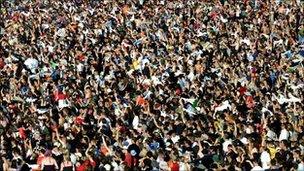 While it may feel strange to some, it's safe to say that after 30 years the (usually) annual concert in the grounds of Slane Castle is now an Irish institution.
From the first concert in 1981, Lord Mount Charles' brain child has brought world famous acts to play in a small village in County Meath.
Kings of Leon will follow in the legendary footsteps of such acts as U2, Bruce Springsteen, the Rolling Stones and Thin Lizzy, in headlining Saturday's concert.
Elbow, Thin Lizzy, White Lies, Mona and The Whigs will complete the full day's line-up at the 30th anniversary concert.
And given that every ticket sold out in under 40 minutes, the Meath event is obviously as popular as ever.
Compulsive concert goer and comedy writer Peter Davidson said part of the attraction was the location.
"The grounds of Slane itself are spectacular and the geography of the area creates a sort of snowglobe of entertainment," he said.
"The other thing about Slane is that when a band plays there, they've reached the height of their powers. It's a sign that you've become a world-beating band."
And, he said, it's not just the headline acts that draw the crowds.
"The support acts are usually great musicians in their own right. You will have a lot of people going on Saturday who are there to see Elbow rather than primarily the Kings of Leon," he said.
Music journalist and BBC Radio Ulster presenter Stuart Bailie said a lot of Irish people felt very nostalgic about Slane.
"For a long time it was the only place to see big acts," he said.
"It was a ritual, your annual summer pilgrimage to the castle and it's such a spectacular location."
Helen Carmichael from Lavey in County Londonderry is going to the Kings of Leon concert with her brothers, sisters and friends - 16 people in total. Saturday will be the first time at Slane for each of them.
"I've been to Oxegen about four times, but it's my first trip to Slane," she said.
"People say it's good, they rate it above Oxegen, so I'm expecting a lot."
The BBC's Gareth Gordon is a veteran of some of Slane's greatest shows.
"I've seen U2, Thin Lizzy, the Rolling Stones, Neil Young and Bruce Springsteen.
"My best Slane moment was during Bruce Springsteen's concert," he said.
"I looked behind me and there was a massive crowd and they were moving up and down like a magic carpet."
Siobhan Crummey from Belfast is looking forward to returning to Slane on Saturday. She saw Oasis play there in 2009.
"The atmosphere was really, really good. I don't think I've ever been to a concert with so many people," she said.
"It was really different, because it's outdoors and because of the atmosphere."
Siobhan said this year's Slane concert seems to be on everyone's mind.
"Lots of people I know are going. Even when I went in to get money changed into euros they asked me if it was for Kings of Leon, " she said.
"Lots of people I work with are going as well. There seems to be a big hype around it, so it better live up to the expectations."
Related Internet Links
The BBC is not responsible for the content of external sites.