Restraining order for carer who maltreated step-mother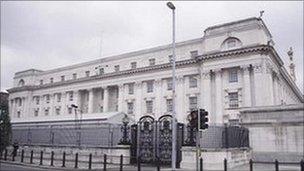 A court has placed a restraining order on a carer accused of maltreating her elderly step-mother.
The High Court heard how the 74-year-old was kept like a prisoner in her own home by her step-daughter.
It was revealed that the victim, who has learning difficulties, lost contact with her family six years ago.
When her brother and sister finally found her she was thin, frail and living in "solitary confinement".
Along with a restraining order, Mr Justice Weir said the defendant had seven days to produce all financial statements and documents belonging to both herself and the woman she claimed to be caring for.
The judge heard that the victim had re-married after meeting her second husband in a nursing home.
Within one month the step-daughter had arranged to remove the couple from the home and told the victim's siblings that she was going to live with their sister in England.
However, they later discovered the elderly woman living in a house in Northern Ireland. She was confined to a kitchen, with no TV or telephone.
The court heard how the victim had been told her brother and sister had died, and was often heard crying by neighbours.
Mr Justice Weir ordered that no names or addresses could be reported in order to give the woman breathing space to recover.