Rosanna Davison wins Ryanair defamation case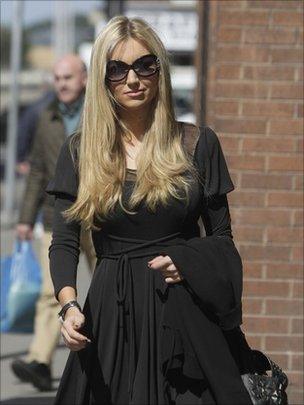 The daughter of singer Chris de Burgh has been awarded £70,000 in damages after she sued Ryanair for defamation.
A jury at Dublin's High Court ruled a press release by the budget airline implied former Miss World Rosanna Davison, was racist, xenophobic, jealous and narrow-minded.
The case centred on comments made by Ryanair in November 2008 in response to remarks by Ms Davison about the airline's charity calendar.
Ryanair denied defamation.
Ryanair issued the press release following an interview Ms Davison gave to a newspaper.
The model had been asked by a journalist about what she thought of the lack of any Irish women in Ryanair's 2009 charity calendar, which featured cabin crew in bikinis.
Ms Davison said she was correctly quoted the next day as saying: "If I was (organising) it, I would have made sure that Irish women were involved because it's an Irish charity and Irish fundraising."
The following day the airline issued its press release.
It stated: "Ryanair today hit back at comments made by Irish glamour model Rosanna Davison in relation to the absence of Irish cabin crew from Ryanair's 2009 charity calendar, which 'bordered on racism and demonstrated an elitist attitude against Ryanair's international cabin crew'."
Ms Davison, 27, of Cornelscourt, Dublin, claimed the release defamed her in that, she alleges, it meant she was racist, xenophobic and jealous.
Ryanair denied defaming the model and maintained it stated her comments bordered on racism and not that she was racist.
However, the jury of eight men and four women disagreed and awarded Ms Davison 40,000 euro (£34,000) for compensatory damages and 40,000 euro (£34,000) for aggravated damages.
The case will be mentioned again next week when Ryanair is expected to ask for a stay on the payment.