Wu Pu Paul Mo tried to 'con' legal aid system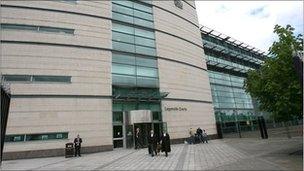 The High Court has heard that a man accused of involvement in a major international fraud, also tried to con Northern Ireland's legal aid system.
The court heard that Wu Pu Paul Mo did not declare financial help he received from his long-term partner, state pathologist Jack Crane.
Mr Mo, 40, was arrested at Professor Crane's home last week.
He was charged with new offences linked to undeclared income and allegedly converting criminal property.
A bail hearing on Friday heard that the accused, of Strathyre Park, Belfast, had claimed to earn £200 a week when applying for legal aid.
Crown counsel Conor Maguire said that between January and May Mr Mo lodged in his bank account £17,000 in cash and £15,000 cheque.
Mr Maguire said Mr Mo failed to mention his partner's income, despite a requirement to do so. Following his arrest he allegedly admitted living in Professor Crane's home and regularly receiving money from him.
"The prosecution have a concern that there is a continuing deceit and that this applicant is devious," Mr Maguire said.
Last November Mr Mo was charged with cheating the public revenue along with his sister Ho Ling Mo, of Oakwood Park, Belfast, who ran her own law firm in the south of the city.
According to the prosecution Mr Mo is also connected to an alleged major, international fraud operation where money was obtained from the Legal Services Commission and laundered in Hong Kong.
A judge refused bail despite being told Professor Crane was willing to put up a £20,000 cash surety to secure his relief.
There is no suggestion that the pathologist was in any way connected to any alleged criminality.