Bobby Moffett murder: police in 1st anniversary appeal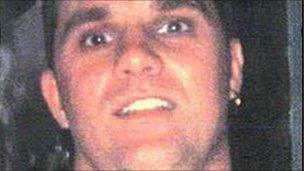 Police have said a team of detectives is still investigating the murder of Belfast man Bobby Moffett.
Mr Moffett, 43, was shot a number of times by at least two masked gunmen at the junction of the Shankill Road and Conway Street on 28 May last year.
He was taken to hospital but died a short time later. The killers ran off towards Conway Street.
Police have issued a new appeal for information on the first anniversary of the murder.
Eight people have been arrested over the killing - which the International Monitoring Commission said was sanctioned by UVF leaders - but no-one has been charged.
"We are still actively pursuing our inquiries and we are as determined as ever to bring those responsible for this brutal murder before the courts," Detective Chief Inspector John McVea said.
"We continue to follow definite lines of inquiry but we need information which we can turn into evidence before we can bring charges.
"I am appealing again to the local community to tell us what they know, what they saw and what they have heard.
"If the community comes forward with tangible assistance, police will not be found wanting in pursuing those leads."
He urged anyone with information to contact police on 028 9056 1812 or Crimestoppers on 0800 555 111.