Castlereagh Council hosts homecoming parade for RIR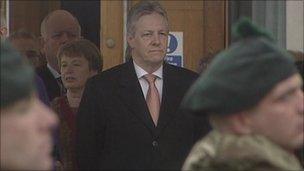 Hundreds of people have attended a homecoming parade for the Royal Irish Regiment hosted by Castlereagh Council.
Among those there were friends and family of the soldiers just back from a tour in Afghanistan.
The First Minister Peter Robinson was also there to see the second battalion being given medals.
This is the third parade in recent weeks marking the soldiers return to NI, events have also been held in Ballymena and Lisburn.
There has been controversy over the Ministry of Defence (MoD) not holding a parade in Belfast city centre.
It said it has turned down an offer from Belfast City Council to hold a march through the city centre in honour of the soldiers because of "post-operational duties".
Serving officer Captain Doug Beattie said he thinks it will happen in the future.
"I remember the last time we paraded in 2008 and people didn't want us to parade," he said.
"Now we're not parading, people do want us to parade.
"I don't think it really makes that much of a difference.
"The Ministry of Defence made a decision, we have to abide by that decision, I don't need to parade to be able to stand up and say this is what I did and I hold my head up high, but we must abide by what the MoD want.
"I know it's bitterly disappointing for those who wanted to see the Royal Irish parade through Belfast, but we'll get an opportunity at a later date, I'm sure."
More than 1,500 members of the regiment returned from a tour of Afghanistan in April.
Three soldiers from the battalion were killed during the operation, which began in September.
Ranger Aaron McCormick, 22, from Macosquin in County Londonderry was killed by an improvised explosive device (IED) in November last year.
Ranger David Dalzell, 20, from Bangor was shot in February. The exact circumstances of his death have not yet been confirmed.
Lance Corporal Stephen McKee, 27, from Banbridge, was killed by an IED in March.