Arlene Foster hopeful NI corporation tax will be cut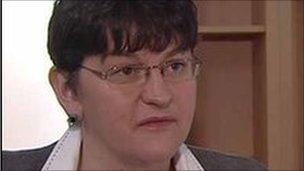 The Enterprise minister has said she is hopeful that Northern Ireland will win the right to lower its corporation tax, despite concerns from the Treasury.
Arlene Foster told Inside Politics that a lower corporation tax would create jobs and attract investment.
She said this would make up for a potential multi-million pound cut in funding from Westminster.
The current rate in NI is 26% compared to 12.5% in the Republic.
The Enterprise minister said an extra 4,000 to 5,000 jobs a year could be created if the rate is lowered.
"I think that is a prize very much worth looking for, and indeed the money will be recouped in extra wages and in other ways, so I'm very content to argue for corporation tax to be lowered in NI because I think the benefits will outweigh the cost," she said.
Mrs Foster told a meeting of the Enterprise committee at Stormont on Thursday that a decision to devolve power to vary the rate of corporation tax could be made towards the end of the year.
She said she endorsed reducing the rate which would be a "radical change needed for the Northern Ireland economy".