Northern Bank says NI's recovery 'far from spectacular'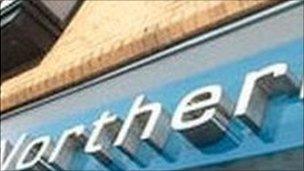 NI's recovery is far from spectacular, but growth will continue at a sluggish pace, according to the Northern Bank.
Its latest 'quarterly sectoral forecasts' report has revised annual growth forecasts downwards to 1.1%overall for 2011 and 2% for 2012.
The report also said the probability of the local economy falling back into recession has fallen to 15%from 25% in last quarter.
It said overall growth will remain fragile.
The report said this was due to public expenditure constraints combined with a significant squeeze on household incomes from rising elevated inflation.
Despite the significant challenges that the economy faces, the bank forecasts for this year suggests that there will be growth in a number of sectors including: manufacturing (4.3%), agriculture (3.9%), personal services (2.6%), transport (2%) and hospitality (1.9%).
Northern Bank chief economist Angela McGowan said: "The impact of austerity cuts have naturally taken their toll on growth levels this year.
"Households have also felt the sharp impact from higher prices which have eroded their purchasing power.
"A correction in international commodity prices would clearly improve the situation, but cannot be guaranteed.
"At the moment, the primary support for economic growth is coming from low interest rates and solid global demand."
The report indicates that strong global demand continues to support Northern Ireland's local manufacturers with growth of over 4.3% expected this year for this sector, on top of the 3% growth that was reached last year.
Ms McGowan added: "Manufacturing remains Northern Ireland's shining star when it comes to comparisons of sectoral performance.
"The success of many local manufacturing companies in this tough economic climate reflects the importance of diversity in our economy's overall portfolio and reinforces the need to orientate ourselves towards external trade.
"What is disappointing in our economy's performance is the lack of growth in service exports over the last year.
"Despite the fact that global demand for many types of business services rebounded during late 2009 and throughout 2010, the majority of Northern Ireland's service companies remain focused on the local market."
The latest Northern Bank report indicates that the construction sector has hit a new low when it comes to output and earlier hopes that it may benefit this year from initiatives such as the Green New Deal are fading.
The tightening in public spending will mean that some other sectors are also expected to shrink this year. They include: public administration (-1.4%) and education (-1.2%).
Ms McGowan said: "Economic growth will be sluggish in 2011 and the challenges of reduced public monies and elevated inflation will take their toll.
"Nonetheless, opportunities remain in the form of high levels of global demand and the weak pound, the latter making our exports more attractive abroad."
She said the new executive will have to focus on a range of measures which will encourage the private sector to invest, create jobs and build upon our export base.
"Supporting self-employment and the formation of new businesses will significantly help to grow the local private sector."
Related Internet Links
The BBC is not responsible for the content of external sites.