DUP anger as bomber appointed Limavady mayor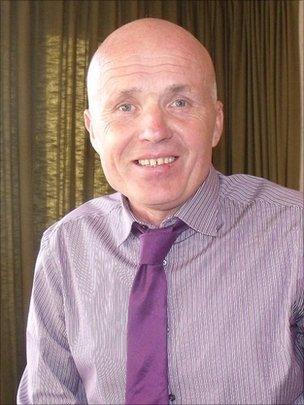 A DUP MP has criticised Sinn Fein for choosing a convicted bomber to serve as mayor of Limavady.
Sean McGlinchey spent 18 years in jail for his part in a car bomb attack which killed six people in Coleraine in 1973.
He took up the chain of office on May 24 after being elected to Limavady Borough Council for the first time earlier in the month.
East Londonderry MP Gregory Campbell said the appointment was "reprehensible".
He said it would cause anger and outrage among the relatives of those who died.
"It doesn't lend itself towards a party committed to looking to the future whenever Sinn Fein keep appointing people who are a very stark reminder of the past," he said.
"If we saw some remorse, regret or apology for what they did in the past that would be a start but we haven't seen any of those things.
"It would be a clean break if the mayor of Limavady was to say I did what I did in the adjoining council area and I'm extremely remorseful and I regret deeply and apologise for the hurt and anger that I caused with that bomb.
"But there is no indication that he is going to say that," he said.
Sean McGlinchey is the local Sinn Fein chairman and a brother of the former INLA leader Dominic McGlinchey who was murdered in 1992.
He said he did not want to speak about the matter "at this time".
It is the second time Sinn Fein has been criticised for appointing a convicted killer to a high profile position.
Last week, Mary McArdle, 46, was appointed as a special adviser in the Department of Culture Arts and Leisure.
She was part of an IRA gang who ambushed Judge Tom Travers and his family as they left Mass in south Belfast in April 1984.
Mary Travers, who was 22, was killed.
Her sister Ann said she had been shocked and felt physically sick when she heard McArdle had been appointed by the culture minister Caral Ni Chuilin.