Prison system 'failed' Maghaberry suicide prisoner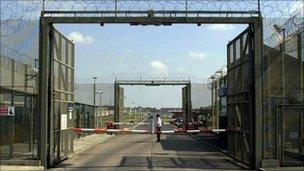 The mother of a prisoner who took his own life while on remand in a NI prison said she raised concerns about his mental state with the Prison Service.
Aaron Hogg, 21, from North Belfast, was awaiting trial in Maghaberry Prison for attempted murder.
He is the third prisoner to take his own life inside a Northern Ireland prison this month.
His mother, Lyn Edwards, said the system was failing in its duty of care towards her son.
"We had written a letter just saying how vulnerable he was, that he was in their care and it was up to them to look after him," she said.
"There are a lot of people in there with mental health issues who are just put in there, locked up, forgotten about, and that's it.
"The whole system let Aaron down."
Earlier this month, a 19-year-old man and a 23-year-old woman were found dead in their cells in Hydebank Young Offenders Centre.