Education board vehicles damaged in Antrim attack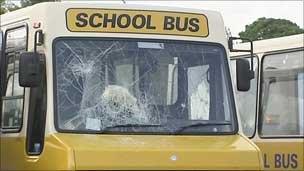 Seven school buses belonging to an education authority are off the road after an attack by vandals on Sunday.
More than 60 windows were also smashed during the attack on the North-Eastern Education and Library Board's centre in Antrim.
The vehicles were parked at the back of the premises on the Lough Road. The damage was reported shortly before midnight.
Police have appealed for anyone with information to contact them.
Antrim mayor, Councillor Paul Michael, said his first reaction to the attack was "one of horror".
"The level of destruction that has taken place here is mind-blowing, seven school buses, every window smashed, 60 windows in the main building," he said.
"This is an attack not only on the centre, not only on the local schools, it's an attack on the whole community and it has to be condemned."
He said the damage caused to the buses would curtail summer schemes being planned by local schools.
"There are schools here with plans, with diaries, looking ahead to the summer months and there are seven buses which are going to be out of circulation," Cllr Michael said.
"That in itself tells it own story."
A PSNI spokesperson said: "This is a callous attack with no regard for the wider community of the North East area.
"Many people will be badly affected by this attack, not only the young people who rely on the resources vandalised, but the large number of people who earn a living as part of the local education board."