'Re-think needed' on Northern Ireland lawyer fees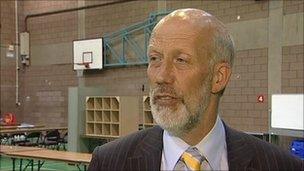 Members of the Northern Ireland legal profession protesting over lower fees need to rethink their position, an Antrim solicitor has said.
More than 140 defendants have been left without representation because of the protest. Lower fees were introduced in March by Justice Minister David Ford.
Mr Ford has defended the reduction. He said the fees were fair and generous and claimed the move would save £18m.
Gary Bell said those on strike did not represent all solicitors.
"There are 500-plus firms in Northern Ireland that make up the solicitors' profession," Mr Bell said.
"Every firm of solicitors has to look at this very carefully to see if they believe that they can operate at a profit, doing the work and representing people who are in prison, at these lower fees."
Under the changes, fees to solicitors have been reduced by 25%, while barristers rates will also drop by 20%.
Solicitors have refused to take on more than three-quarters of criminal legal aid cases due to start in NI during the past six weeks.
Legal aid in Northern Ireland is 20% more expensive per head of population than in England and Wales.
The bill for last year was more than £100m.