Explosives accused says he was 'picking up fare'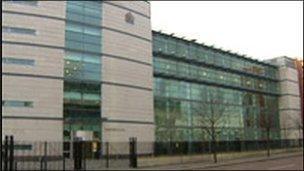 A man arrested for allegedly having explosives was an innocent taxi driver picking up a fare, a court has been told.
Francis Carleton, 38, was arrested in the university area of Belfast last Thursday by police investigating dissident republican activity.
Barry Boardman, 43, was also detained.
Both men are charged with possessing an improvised explosive device with intent to endanger life or cause serious injury.
Three other people - two men and a woman - arrested during the same operation were released without charge on Friday.
A detective constable told Belfast Magistrates Court that he could connect the two defendants with the alleged offence.
Mr Boardman, of no fixed address, did not seek bail.
The officer opposed an application by Mr Carleton, of Conor Rise, Belfast, because of a risk he may flee or fail to turn up for trial.
He added: "Police have objections to bail due to the heightened security threat posed by dissident republican groupings at the present time."
Mr Carleton's solicitor, Pearse MacDermott, said he client had denied the alleged offence throughout two days of interviews.
The lawyer told the court: "Mr Carleton was arrested at the scene of this incident on Thursday evening.
"He provided an explanation at the time that he was an innocent taxi driver collecting a fare.
"He denies being a member of any organisation."
Mr MacDermott revealed his client lives with his elderly disabled mother and was prepared to be curfewed to secure bail.
However, District Judge Ken Nixon refused his application due to the risk of not turning up for trial.
During questioning by Mr Boardman's lawyer, the detective said evidence against him was based on police observations at the scene.
He said he could not comment further on how the accused had been monitored.
Both men were remanded in custody to appear again via video-link in four weeks time.