Sainsbury's king prawn theft case cost over £17k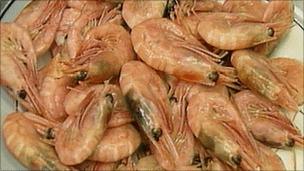 The trial of a woman accused of stealing a £6.99 packet of prawns from a supermarket cost the Department of Justice more than £17,000.
The case against Arija Kehere from Keady was eventually dropped after a judge highlighted mistakes in the police investigation.
On Tuesday, it emerged the estimated cost of bringing Ms Kehere to court was £17,453.
The costs were detailed in an Assembly question.
Ms Kehere, 54, was accused of stealing the king prawns from a Sainsbury's store in Armagh on 31 July last year.
A jury was sworn in at Newry Crown Court, but was discharged three days later by Judge Kevin Finnegan amid concerns that it would not be a fair trial.
He said there was a catalogue of defects and failures in the police investigation, including the fact that the packet of prawns was not kept as evidence.
The case was subsequently dropped by the Public Prosecution Service.
An Assembly question from Lord Morrow asked the Justice Minister David Ford how much the case had cost his department.
Mr Ford said the exact cost was not yet know but estimated it to be £17,453.
This included £10,205 in legal aid costs and £3,961 for an interpreter.