NI solicitors and barristers make £70m from legal aid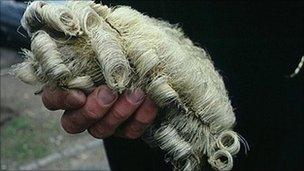 A group of 200 barristers and solicitors' firms have earned almost £70m in legal aid payments in the last financial year.
The identity of those who received the money will not be published until it is established there is no security risk.
The bill has fallen from more than £100m in 2009-10.
The publication comes as some solicitors are involved in a dispute with the justice minister who has reduced legal aid rates.
Solicitors have withdrawn their services in more than 100 criminal cases arguing that the new rates make it impossible for them to prepare properly for court.
Seven firms received £1m or more, while nine others received more than £750,000 and 20 more than £500,000.
The highest earning firm made more than £2.5m.
The barrister earning most from legal aid was paid nearly £900,000 while 16 were paid more than £250,000.
Another 12 were paid £200,000 or more.
The list is currently anonymous because some lawyers have objected to their identities being revealed.
The names are expected to be revealed later this year when the security checks have been completed.
The interim chair of the Northern Ireland Legal Services Commission, Ronnie Spence, said it was committed to transparency in accounting for public money.
He added that the money paid out may represent payments for work undertaken across a number of years and for a variety of cases.
Justice Minister David Ford said: "I'm determined to ensure that we continue to promote access to justice, that we continue to allow victims of crime to see trials proceed as speedily as possible, but that we do it within the funding package which is possible.
Mr Ford said under normal procedures a review of the figures would be carried out two years after their introduction.
"I have made it clear to solicitors and barristers that I am prepared to convene an earlier review of the operation of the new fees, provided enough cases have gone through to actually be able to do an assessment of it," he said.
"I have said we will do that as soon as we get a reasonable number of cases through, but the reality is the new legal aid fees are the law of the land.
"They are in place by due process, put forward by the department with the approval of the full executive and of the justice committee."
The justice minister said he had asked his officials last week to write to every firm of solicitors in NI to ask if they were willing to work at the current legal aid rates.
"We've already had a number of firms that have responded to say they are willing to work at those rates, so what we will have to do is see what the overall picture is, but it certainly seems to me that a number of solicitors have remained on record, to use the term, for cases they already have and a number of other firms have already written into the department to say they accept the new rates.
"It seems to me there is every means that we will provide a justice system by ensuring that those who are prepared to carry out the cases at the rate do carry them out," he added.
Related Internet Links
The BBC is not responsible for the content of external sites.