County Down mum's stillborn baby heartbreak
By Marie-Louise Connolly
BBC Northern Ireland health correspondent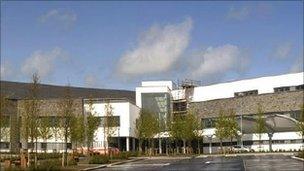 A County Down woman believes her baby son may have survived if midwives at the Downe midwifery-led unit had listened to her concerns.
The South Eastern Health Trust has apologised to Anne-Marie Smyth whose baby was stillborn last October.
She said staff had not discussed inducing her, nor did they complete a birthing plan.
The trust, however, is adamant that all guidelines in the case were "strictly adhered to".
It will carry now out a review of procedures to ensure women are given information which reflects the full range of choice available.
Ms Smyth, who lives in Downpatrick, attended the Downe midwifery-led unit throughout her pregnancy last year.
When she was nine days overdue, she said her calls for extra monitoring were ignored by staff who instead sent her home on more than one occasion.
While she accepts stillbirths are a sad reality, she believes her baby's life could have been saved.
"I lost confidence in the unit, the continuity of care just wasn't available to me," she said.
"The reassurance of scans, especially as I was overdue, wasn't there.
"I didn't get the support from the unit I felt a first time mother needed.
"It was distressing, especially at such a critical time in my pregnancy."
Anne-Marie acknowledges that her case was not unique.
However, she feels that when women go past their due date, they should be offered extra scans to ensure the baby is not in distress.
While she admits to calling into the unit regularly and often being the only pregnant woman there, staff sent her home telling her to take things easy.
"My own instincts told me something was wrong, but no-one listened," she said.
"I believe when a woman goes past her due date, at some stage they should discuss induction, that conversation never took place.
"Considering I was often the only woman there, staff were hardly stretched."
According to guidelines produced by the National Institute for Health and Clinical excellence (NICE), a woman who has a straightforward pregnancy, should be offered the choice of being induced after 41 weeks.
According to Anne-Marie, that offer was never made. Nor were attempts to complete a birthing plan.
"For me not to complete something as basic as a birthing plan was wrong," she said.
"It might have helped to explain things when I went into labour. It just added to my distress that something so basic wasn't undertaken by the midwives."
The trust, however, said a birthing plan would not have made a difference in her case.
Dr Paul Fogarty, a consultant obstetrician and gynaecologist with the South Eastern Health Trust, said Ms Smyth's cervix, "wasn't right for induction".
"It was assessed on a couple of occasions and so induction would not actually have been possible," he said.
"It's understandable that these feelings of loss and anger are very real, but unfortunately this story is all too representative."
He said an average of 11 babies were stillborn every day in the UK which represented 2-3 stillbirths every week in Northern Ireland.
"So unfortunately there are 125 couples experiencing the pain the grief that you (Anne-Marie) reported."
Dr Fogarty said he was not personally involved in Ms Smyth's case but he had spoken to her consultants and had taken independent review of her medical notes and had "gone through them in a lot of detail".
"I can assure Anne-Marie that I'm very confident that the outcome would have been no different if she had filled in a birth plan, that her baby was normally-grown," he said.
"We use scans to measure what size the baby is going to be, if the baby has any abnormalities and Ann-Marie's baby was perfectly grown, had no abnormalities and is one of the 30% of babies that are born where we cannot find a cause."
He said stillbirth was sometimes said to be "the equivalent of an inter-uterine cot death".
"We have babies that are born, who die when they are a few weeks or a few months old, also a terrible tragedy, but sometimes this is what happens."
The trust has now written to Anne-Marie and her partner apologising for what happened.
The letter apologises for midwives failing to discuss an induction date and for failing to complete a birthing plan.
As a result of Anne-Marie's experience, the head of Midwifery and Gynaecology at the trust has called for a review of procedures to ensure women are given information which reflects the full range of choices available.
Midwives are also to receive training in how to tell parents when their baby has died.
This was an issue that Anne-Marie and her partner believe was badly handled.
"Nine days past my due date I called in twice to the unit on the same day," she said.
"That night when I went in, the midwife was unable to hear the heartbeat so she tried to get a scanner to work.
"She said it wasn't working so instead she sent me to the Ulster Maternity Hospital by ambulance.
"I now know that the midwife knew my baby was dead, but didn't know how to break the news.
"That's unacceptable. I travelled to the Ulster thinking and hoping the baby was alive.
"If midwives are to run such units, well then they need to be trained in how to tell parents their baby has died."
Breedagh Hughes from the Royal College of Midwives acknowledges that staff require further training in this highly sensitive area.
"I think it's critical," she said.
"The rate of stillbirths in Northern Ireland is very low, so midwives don't have to deal with the problem regularly.
"However, if there are to be local midwifery-led units, they have to be equipped to deliver such news."
There has been much debate as to whether Downpatrick can sustain a midwifery-led unit when so few mothers are choosing to use it.
In 14 months only 63 babies have been born there, that averages at around one a week.
This compares to 73 in the Lagan Valley unit which opened three months ago.
However, in context, Lagan Valley had already a maternity unit established compared to the Downe which is basically starting from scratch.
The BMA's Dr Tom Black said that with the current budget constraints, there was not the same money available to offer women choice.
"Midwifery units are expensive," he said.
"The budget is about £200m below what is needed to run the health service, so giving women different choices as to where they give birth may not be as viable in the future."
According to Anne-Marie Smyth, in the future, she will choose to attend the Ulster Maternity Hospital instead.
Her son's post mortem reads that he died from acute asphyxia, intra amniotic infection, which had been present for a number of days.
According to Anne-Marie she will never know if scans she had requested in days before giving birth, could have picked up that her baby son Colin was ill.