Co Down mum says stillbirth could have been prevented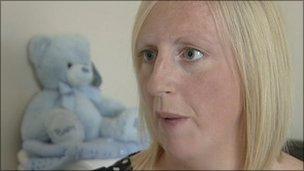 A County Down woman believes her baby son may have survived if midwives at the Downe midwifery-led unit had listened to her concerns.
The South Eastern Health Trust has apologised to Anne-Marie Smyth whose baby was stillborn last October.
Staff never discussed inducing her, nor did they complete a birthing plan.
A trust representative said: "We do adhere to the guidelines as much as possible and in this case they were adhered to strictly."
The trust will carry out a review of procedures to ensure women are given information which reflects the full range of choice available.
Anne-Marie Smyth, who lives in Downpatrick, attended the Downe midwifery-led unit throughout her pregnancy last year.
When she was nine days overdue, she said her calls for extra monitoring were ignored by staff who instead sent her home on more than one occasion.
While she accepts stillbirths are a sad reality, she believes her baby's life could have been saved.
She acknowledges that her case was not unique.
However, she feels that when women go past their due date, they should be offered extra scans to ensure the baby is not in distress.
"My own instincts told me something was wrong, but no-one listened," she said.
According to guidelines produced by the National Institute for Health and Clinical excellence (NICE), a woman who has a straightforward pregnancy, should be offered the choice of being induced after 41-weeks.
Ms Smyth, however, said that offer was never made, nor were attempts to complete a birthing plan.
"For me not to complete something as basic as a birthing plan was wrong," she said.
"It might have helped to explain things when I went into labour."
The trust said a birthing plan would not have made a difference in her case.
Dr Paul Fogarty, a consultant obstetrician and gynaecologist with the South Eastern Health Trust, said Ms Smyth's cervix, "wasn't right for induction".
"It was assessed on a couple of occasions and so induction would not actually have been possible," he said.
"It's understandable that these feelings of loss and anger are very real, but unfortunately this story is all too representative."
Dr Fogarty said he was not personally involved in Ms Smyth's case but he had spoken to her consultants and had taken independent review of her medical notes and had "gone through them in a lot of detail".
"I can assure Anne-Marie that I'm very confident that the outcome would have been no different if she had filled in a birth plan, that her baby was normally-grown," he said.
The trust has written to Anne-Marie and her partner apologising for what happened.
As a result of Anne-Marie Smyth's experience, the head of Midwifery and Gynaecology at the trust has called for a review of procedures to ensure women are given information which reflects the full range of choices available.
Midwives are also to receive training in how to tell parents when their baby has died.