Matchstick models: Killyclogher inn reproduced to scale
By Louise Cullen
BBC NI News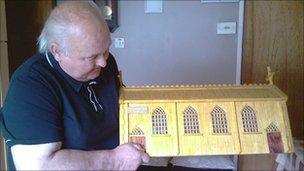 For more than 30 years, Mickey Donaghy has been Omagh's Matchstick Man and there are no signs of him slowing down.
It is a painstaking, precise and very fiddly hobby, but Mickey fell in love with matchstick modelling many years ago.
"I've done caravans, a crucifix, St Brigid's crosses and then the chapel was the big one that took so long to make, because I wanted to try and get it as like the chapel as possible, because it was so old," he said.
"I'm not a great television addict, so it took a good bit of my time up."
His model of the old Drumragh chapel is built on a slate from the original roof, which Mickey got when the building was being renovated.
He took a photograph of the chapel before renovations started in earnest, to keep him on track with his replica.
He does admit there was the occasional cross word when his children were young and running round the house, while he was concentrating on a model.
Those same children, now grown up, are his biggest fans.
"When ones come on holidays, especially the family, they take a piece away with them - they'd torture you," he said.
"I've things here that are already promised to different ones. If they all took what they wanted I'd have nothing at all."
In a way, it was thanks to prisoners in Crumlin Road jail that Mickey started his hobby. Matchstick modelling was common in the prison, but then got less popular.
"An uncle of my wife's used to collect the dead, burnt matches to be sent to the prison. Then the prisoners didn't want them, so he had all these matches lying around," he said.
"I asked what he was doing with them and he said they were likely going on the fire. So I decided I'd take them with me and have a go at this."
He now uses fresh matchsticks, which come in bags of 2,000. He cuts them to size and uses them to make patterns on the walls of his different models, to make them more interesting and realistic.
Mickey's current project is a reproduction of the Village Inn at Killyclogher on the outskirts of Omagh, as it would have looked half a century ago.
He is being faithful to the details, planning to put turf piles outside and leave the walls unsanded for a rustic effect, but he needs a little help with one aspect.
"I'm looking for thatch and I'm looking for a thatcher to thatch it for me. But if I can get the thatch I'll try it myself too," he said.
"It wouldn't be as fiddly as the matches, they're the fiddliest bit, but I think I'll master it too, the way I've mastered the matches. It's a challenge."