Aer Lingus pilots at Dublin and Cork set to strike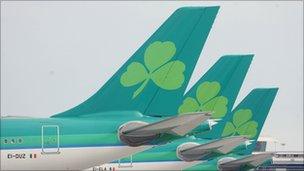 Pilots at Aer Lingus are to go on strike next Tuesday.
The industrial action - backed by 87% of pilots balloted - will affect flights out of Dublin and Cork.
The dispute is centred around the issue of flexibility on rosters. Both sides have been invited to take part in talks.
Aer Lingus CEO Christoph Muller said it could lead to a full cancellation of operations from next Tuesday.
Travellers from Northern Ireland intending to use Dublin Airport next week for onward connecting flights are advised to check the Aer Lingus website.