Attempted murder accused says he acted in self-defence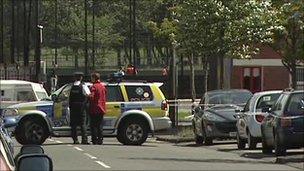 A man charged with attempted murder following a stabbing in Belfast claims he acted in self-defence, a court has been told.
Brian Lane also alleged that the wounded man had turned up at his home brandishing a knife, his lawyer said.
Mr Lane, 24, of Cooke Street in the city, is accused of trying to kill the 27-year-old early on Sunday morning.
The victim is critically ill, but stable after being stabbed in the stomach near Mr Lane's house.
A police officer told Belfast Magistrates Court she could connect the accused with the alleged offence.
She confirmed during questioning by defence solicitor Niall O'Neill that the accused had raised self-defence during interviews.
The officer also agreed that Mr Lane claimed the wounded man arrived at his house armed with a knife.
Mr O'Neill told the court his client was not applying for bail at this stage.
Mr Lane was remanded in custody to appear again via video-link in two weeks time.