Jim Shannon laughs off least sexy MP rating
By Conor Spackman
BBC News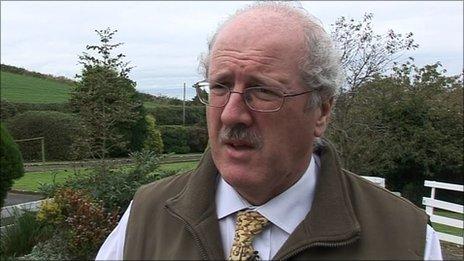 Jim Shannon is the least sexiest MP, according to a new website which ranks parliamentarians according to their attractiveness.
The Strangford representative is currently last out of 648 MPs, but the news is better for party colleague Ian Paisley Jnr who is 156th and number one out of Northern Ireland's representatives.
The website is designed by Francis Boulle, the star of reality television series Made in Chelsea.
It shows users photos of two random MPs and asks them to vote for the most sexually appealing.
Mr Shannon said he believed the website was "just a bit of fun" and joked that he would never win any beauty contests.
"When I wake up in the morning and see the grey hair and the crow's legs, I'm under no illusions!" he said.
"People elected me because they know I am a worker and will get the job done, certainly not because of sex appeal or anything like that.
"When I married my wife 24 years ago, I did so because I thought she was the sexiest woman in the world, and hopefully she thought I was the sexiest man, and that is all that matters to me."
Lady Hermon is the second ranked Northern Ireland MP in 181st place and there is then a big gap down to Gregory Campbell in third place for NI MPs and 410th overall.
In a message on the site, Mr Boulle said it was a "fun and memorable tool" to help voters get to know their MPs, as well as an "interesting opportunity to hold the first ever parliamentary beauty contest".
He added: "Although I fully expect this to offend some people, this was never my intention and I hope you will see the funny side."
Related Internet Links
The BBC is not responsible for the content of external sites.