Lowering corporation tax raised during Scottish talks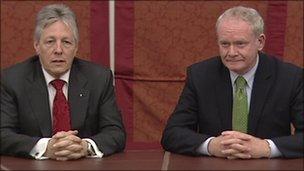 The first and deputy first ministers have held talks with their Scottish and Welsh counterparts in Edinburgh.
The trilateral meeting at Bute House was hosted by Scotland's First Minister Alex Salmond and Deputy First Minister Nicola Sturgeon.
Peter Robinson and Martin McGuinness attended along with the First Minister of Wales Carwyn Jones.
The issue of lowering corporation tax in NI was raised during the talks.
BBC NI's political editor Mark Devenport said: "NI is keen to get the power to reduce corporation tax to match the much lower rate of 12.5% south of the border.
"Scotland has been saying they want that to and there is I think, a concern that they could, if you like scare the horses at the Treasury and that the whole thing might come off the agenda.
"That's why Peter Robinson and Martin McGuinness were keen to stress the unique circumstances of NI, they were also stressing it is not a free lunch, that it could cost Scotland £1bn to £1.5bn.
"Alex Salmond said he would still press for what he thinks is a benefit to his administration."
The leaders of the three devolved regions also discussed wider economic issues and tackling sectarianism within football.
It is the first time they have met since the recent elections.
The trilateral meeting comes ahead of another gathering in London next month when the devolved leaders will put their concerns directly to David Cameron and Nick Clegg.
Related Internet Links
The BBC is not responsible for the content of external sites.