£100m available to ease Belfast traffic bottleneck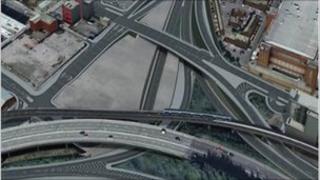 Up to £100m may be spent on getting rid of the traffic bottleneck at the junction of the Westlink and the M2 and M3 motorways in Belfast.
A consultation begins on Wednesday on plans to replace existing traffic lights at York Street with new flyovers or underpasses.
The proposed improvements will give motorists continuous links between three of the busiest roads in NI.
Transport minister Danny Kennedy said he was keen to hear many views.
"It is important that everyone affected by the proposals has input to the process," he said.
Gateway
"This is a high priority within the Roads Service programme.
"York Street interchange is one of the main gateways to Belfast with over 100,000 vehicles passing through it on a daily basis.
"It also provides access to the Port of Belfast as well as serving strategic traffic movements around Belfast."
Four options are under consideration and they can be viewed at an exhibition in the Ramada Encore Hotel, Belfast from 1 to 2 June.
It is unlikely that a decision will be made on the preferred option before summer 2012.
The scheme will cost between £72m and £100m depending on which option is chosen.
Option A
Movements between M2 and Westlink via underpasses below existing ground level underneath new York Street bridge and existing Lagan Road and Dargan Rail bridges
Westlink to M3 movement via underpass below existing ground level and new York Street bridge
M3 to Westlink movement controlled by traffic signals similar to existing ones
All slip roads at Clifton Street remain open
Cost approximately £72m
Option B
Movement between M2 and Westlink via new bridge over existing Lagan Road and Dargan Rail bridges, approximately 18 metres above existing ground level
Movement between Westlink and M2 via underpass below existing ground level under new York Street bridge and existing Dargan Rail bridge
Westlink to M2 movement via underpass below existing ground level and under new York Street bridge
M3 to Westlink movement via new bridge over York Street
All slip roads at Clifton Street remain open
Cost approximately £100m
Option C
Movements between M2 and Westlink via underpasses below existing ground level underneath new York Street bridge and existing Lagan Road and Dargan Rail bridges
Westlink to M3 movement via underpass below existing ground level and new York Street bridge
M3 to Westlink movement via underpass below existing ground level under new York Street bridge
All slip roads at Clifton Street remain open
Cost approximately £98m
Option D
Movements between M2 and Westlink via new bridges over existing Lagan Road and Dargan Rail bridges, approximately 18 metres above existing ground level
Westlink to M3 movement via traffic signal-controlled junctions at York Street and Nelson Street
M3 to Westlink movement via new bridge over York Street
M2/M3 bound on-slip from Clifton Street closed
All other slip roads at Clifton Street remain open
Cost approximately £95m