Protesters object to Bangor development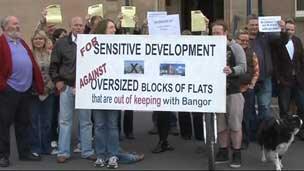 People objecting to a County Down building project have held a protest demonstration.
About 60 people attended the protest outside a North Down Council meeting in Bangor on Tuesday over a proposed development in the town centre.
The residents are opposed to a five-storey building with 32 apartments on the site of an existing car showroom.
Planning permission was to be given at the meeting, but following the protest the decision has been been put on hold.
Green Party MLA Steven Agnew said residents believed the development was "completely out of character with the local area".
"They believe it's over-development. It's going to cause great parking issues," he said.
"Basically, the residents are saying, we live here, this isn't in our interests and it's not in the interests of the people of Bangor."