Pakistani man jailed over false identities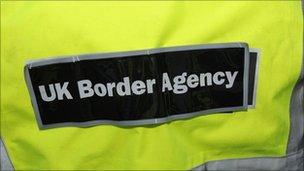 A 31-year-old Pakistani man has been jailed at Belfast Crown Court after being found to have had a number of passports and different aliases.
Khurram Abbas Khokhar's offences included using the identity of a man who had died in 2006.
He was sentenced to 12 months for conspiring to make a false statement to procure a passport and 16 months for having a false identity with intent.
Khokhar is to be deported after serving the concurrent sentences.
He was first encountered by UK Border Agency officers travelling on a ferry from Belfast to Stranraer, where he claimed to be an Irish national living in the UK.
Khokhar was carrying photocopies of an Irish passport and ID.
However checks revealed that he had previously attempted to present himself under two different Pakistani identities.
Further investigations by UK Border Agency officers uncovered evidence that he had obtained two Irish passports and other identity documents under a number of different aliases.
David Boyd, of the Border Agency's criminal and financial investigation team in Northern Ireland, said: "The UK Border Agency is determined to bring criminals like Mr Khokhar to justice, and this sentence shows how seriously these offences are treated by the courts.
"This complicated deception to live under a number of false identities was a sophisticated criminal operation, and this conviction prevents Mr Khokhar from attempting to flout immigration rules, gain employment, open bank accounts and obtain other goods and services by deception."