Thomas 'Slab' Murphy lawyers challenge court choice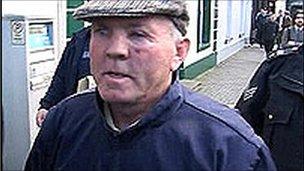 Lawyers for a prominent republican are challenging the constitutionality of a prosecution being taken against him for alleged income tax irregularities.
Thomas "Slab" Murphy of Hackballscross in County Louth faces income tax charges between 1996 and 2003.
His prosecution has been set for the special criminal court in Dublin.
However, his lawyers argue that as that court was set up to try terrorist-related cases, a different court should have been chosen.
They claim the Irish state has acted illegally in its choice of court as Mr Murphy is being charged with tax offences.