Bombardier in Belfast to benefit from £400m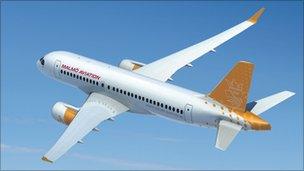 Bombardier Aerospace in Belfast is set to benefit from a new order for the company's CSeries aircraft worth more than £400m.
Swedish airline Braathens Aviation had ordered 10 new mainline jetliners from the firm.
The company said it was great news for the UK and Northern Ireland, in particular.
A spokeswoman said some 800 jobs would be generated when the firm reaches full production of its CSeries wings.
Just under 400 people are working currently on the project at the company's £520m factory in Belfast.
The latest sale brings the total number of plane orders to 100, according to the Bombardier spokeswoman.
"This order is great news. We are investing £520m in a new factory and in the development and manufacture of the advanced composite wings for the CSeries aircraft," she added.
"A number of local firms are involved in the design, construction and equipping of the new wing factory and other local companies have been engaged in the production of the pre-production CSeries wing."
Related Internet Links
The BBC is not responsible for the content of external sites.