DUP MP 'disappointed' by Breen/Buchanan tribunal move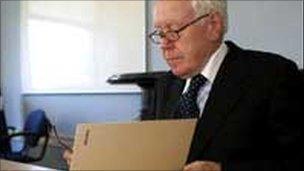 A DUP MP has said he is disappointed at the Irish parliament's decision to put a time-limit on the Smithwick Tribunal.
The inquiry into Irish police collusion in the IRA murders of RUC men Harry Breen and Bob Buchanan in 1989 will have to be completed by November.
The Irish government has said the deadline will only be extended in exceptional circumstances.
Jeffrey Donaldson said the decision contrasted with its demand for open-ended inquiries in the UK.
Chief Superintendent Breen and Superintendent Buchanan were shot dead near the border on their way back from a meeting with senior Irish police officers in Dundalk.
They were the highest ranking police officers to be murdered during the Troubles and since their deaths there have been allegations that the IRA terrorists who killed them had been provided with information on their movements.
Mr Donaldson said the recent inquiry into the murder of Rosemary Nelson had cost £46m while the Smithwick Tribunal has cost £7m.
"While there are no issues with asking for an interim report on the progress made, there appears to be little rational reason for a guillotine hanging over the tribunal in November," he added.
"If there are grounds to believe that the tribunal will not be able to provide all the necessary work by November, then we will be insisting that the Irish government provides the time and resources which are necessary."
Patrick Corrigan of Amnesty International Northern Ireland said he was concerned the move amounted to an "unwarranted" interference in the tribunal's independence.
"If there are to be changes to the tribunal's terms of reference, it must be to make it more effective, not simply to save money, as has been suggested by some," he added.
The Smithwick Tribunal was one of several set up following the recommendations of retired Candian judge Peter Cory in a report to the British and Irish governments in 2003.
Related Internet Links
The BBC is not responsible for the content of external sites.