Prostitute robber Jonathan McCloy gets six years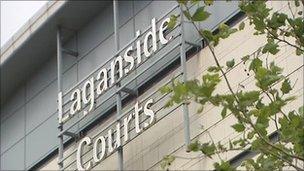 A County Down man who robbed a prostitute after putting a gun to her throat and telling her he was from the IRA has been jailed for six years.
A judge told Jonathan Robert McCloy, 23, of Mageralone Road in Drumaness his victim was a "vulnerable lady".
The court heard that he stole £300 as well the woman's credit card and pin number in the robbery last February.
Two days later, he was arrested by police outside the apartment of another woman, a friend of the victim.
The judge said that the prostitute, Anna Paula Olivera, would have had no idea the gun he pointed at her was a fake and that the sentence included a substantial deterrent to others.
'Preliminary precautions'
A prosecution lawyer told the court Ms Olivera, who advertised her services in a newspaper, had been warned about McCloy's mobile number by a friend when she was robbed two days previously.
When McCloy first rang Ms Olivera, he wanted to see her immediately but she told him she was busy.
When he called back in the evening, he took what the prosecution lawyer described as "preliminary precautions" and allowed him into her apartment.
When inside, he showed her a handgun in the waistband of his trousers and told her that if she gave him her money, she would not be harmed.
When Ms Olivera handed him £300, he told her he "owned the area and was from the IRA".
"Don't tell anybody or the police or you will get two years for prostitution," he had said.
The lawyer described how McCloy then pulled out the gun, held it to her throat and demanded everything else of worth.
Following the robbery, Ms Olivera told her friend what had happened and to beware a mobile number ending in 300.
Two days later, her friend arranged to meet McCloy at her apartment in Victoria Place.
When he got out of the car, armed police arrested him and uncovered the imitation gun in his waistband.
During interview, McCloy admitted what he had done, claiming it was because of his cocaine addiction.
A defence barrister said his client had viewed the women as easy targets but had shown remorse for his actions.