£100,000 panel to decide on Northern Ireland MLAs' pay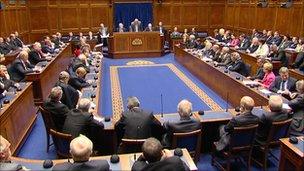 The assembly is set to spend an estimated £100,000 setting up a new panel to decide on MLAs' pay, pensions and allowances.
The three-person panel will be appointed in the next few weeks.
Under legislation passed in its last term, the assembly cannot amend or reject its recommendations.
Northern Ireland assembly members have not received a pay rise in almost a decade and their pay has fallen behind Scotland and Wales representatives.
MLAs' basic pay is about £43,000, well below their counterparts in Scotland, £57,000 and Wales, £54,000.
But past attempts to give themselves a pay boost have proved controversial, which is why the independent panel has been set up.
Its first year costs are estimated at £100,000, including the £19,000 the part time panellists will receive in total, £60,000 to go to support staff and £20,000 for specialist advice.
After the first year, the cost will drop to £15,000 per year.
Sinn Fein's Pat Doherty defended the decision to set up the panel.
"When the people out there are looking for openness and transparency the only way we could deliver that was to move outside the authority of the assembly and the authority of MLAs," he said.
"The only way to do that was to establish an independent body - I do believe that is the right way forward."
However, Traditional Unionist Voice leader Jim Allister said a pay rise for MLAs was hard to justify.