Jim Boyce says Sepp Blatter is a friend of NI football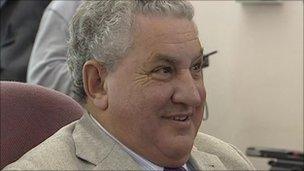 Fifa president Sepp Blatter is "a friend of football in Northern Ireland", according to Jim Boyce.
The former president of the Irish Football Association was elected vice president of Fifa on Wednesday.
"Anything he (Blatter) has ever been asked to do, he has done it very willingly," said Mr Boyce.
The IFA voted for Mr Blatter although the English and Scottish football associations tried to have the election postponed amid corruption allegations.
Mr Blatter has insisted he will not make England pay for their failed attempt to stop him being re-elected.
Commenting on the ongoing allegations of corruptions within Fifa, Mr Boyce said: "If these allegations are proven, the people should be removed from office right away. People who are in these positions have got to be in a position where they are whiter than white."
Seventy-five-year-old Mr Blatter, who is Swiss, was the only candidate in the Fifa presidential election.
"England had to do what they had to do... The incredible thing yesterday was that 186 of the countries throughout the world voted Sepp Blatter back in as president of Fifa," continued mr Boyce.
The 67-year-old has become one of eight vice-presidents in Fifa's executive committee, taking the place of Englishman Geoff Thompson.
Jim Boyce continued: "What surprised me was that David Bernstein (the FA chairman) had no support whatsoever. He spoke on the motion but had nobody to back him.
"And even the European countries and England are part of UEFA... The European countries seemed aghast at what was happening but obviously England felt that they had to do and say something, but certainly they didn't get a very good reaction.
Mr Boyce was also asked if he felt England's bid to derail the Fifa election was sour grapes at not securing the World Cup in 2018.
"A lot of people have said to me that England have a little bit of arrogance - I believe they are disappointed they didn't get the World Cup and I was disappointed England didn't get the World Cup.
"But there were other major countries who were also disappointed. And a lot of people were saying if England had got the World Cup would they have asked yesterday for what they asked for?
"And I don't know the answer to that."