Two girls rescued from burning building in Derry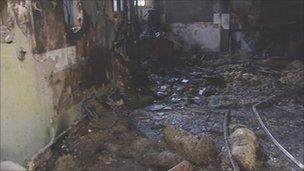 Two teenage girls have been rescued from a fire in a derelict building in Londonderry.
The 13 and 14-year-olds became trapped in the large building at the Balliniska industrial estate in the Springtown area at around 2200 BST on Wednesday.
A number of appliances from the Fire and Rescue Service attended the scene.
The girls were treated for mild burns and the effects of breathing in smoke. A third girl escaped uninjured.
Assistant group commander Mark Darrell said the girls had been drinking alcohol in the building and were lucky to escape with their lives.
"When crews arrived the building was full of smoke but they could hear girls screaming inside it," he said.
"It's every firefighters nightmare. They look at a building like that and know there's somebody in it. Thankfully, they were able to complete a very successful search and found the two young children in a very distressed state."
Mr Darrell said the girls were given first aid at the scene before being taken to hospital.
He said crews then began searching for the third child before being told she was safe.
"We're looking at two children who are lucky to be alive. The children admitted starting the fire but they didn't realise that as soon as the building filled with smoke they weren't going to be able to find their way out.
"While this is a derelict building all the partition walls are still in place and it is like a maze.
"Fill that with smoke and panic and you soon realise just how lucky these children were. They were lucky that the professionalism of our crews meant we were able to find them so quickly," he said.