Derry man Stephen Radcliffe in court on guns charges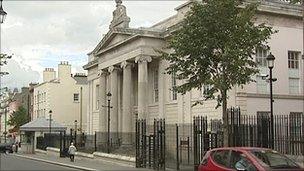 A 27-year-old man has appeared in court charged with having guns in his flat in Londonderry.
Stephen Radcliffe, from Dunluce Court, is accused of having a pump-action sawn-off shotgun and a .32 pistol and ammunition with intent to cause fear or violence.
Londonderry Magistrate's Court was told he fled across the border after the weapons were found in February.
The defendant was released on bail despite police objections.
A detective told district judge Barney McElholm that she was objecting to bail because the defendant had left the jurisdiction for three months.
He only returned and went to Strand Road PSNI station voluntarily with a solicitor on Tuesday.
When questioned by a defence solicitor, the officer confirmed that the police have the defendant's passport.
The solicitor said his client panicked after the police arrived at his flat and fled to Donegal where he had been living rough.
He said the defendant, who worked in Seagate for five years, told the police that a group of people called at his home and told him they were "resting" the guns there for a couple of days and wanted them to stay there.
He said his client was in still living in fear of those people.
Two references from a priest and a lecturer were handed in on his behalf.
His solicitor said both letters referred to the defendant's naivety and pointed to a vulnerable and trusting person with low self-esteem.
He said the incident has had an "enormous and catastrophic affect" on the defendant's family and on his work and personal life.
Applying for bail, the solicitor said the defendant was not on the police radar. He said friends travelled to Donegal and convinced him he had to come back because his physical and mental health were both suffering.
The district judge said he appreciated the police concerns, but it was obvious the defendant was in fear of sinister people.
He was released on his own bail of £500 and ordered to live at his parent's home in Kylemore and wear an electronic tag.