Mary McArdle job reawakens anger at Mary Travers murder
By Greg McKevitt
BBC News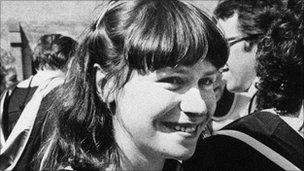 It was a Sunday afternoon in April 1984 and 19-year-old Mary McArdle was walking a dog along the upmarket Malone Road in south Belfast.
The teenager, who came from across the city in Turf Lodge, was also carrying a deadly secret - two guns hidden in surgical stockings under her skirt.
The guns had been used a short time earlier to murder Mary Travers, a young woman not much older than herself.
The 23-year-old was shot less than half a mile up the road after leaving St Brigid's Catholic Church where she had just attended Mass with her mother and father.
The target of the IRA ambush was her father Tom, a resident magistrate. He was shot but survived - his daughter did not.
Mr Travers would later recall: "At that time, Mary lay dying on her mum's breast, her gentle heart pouring its pure blood on to a dusty street in Belfast.
"The murderer's gun, which was pointed at my wife's head, misfired twice. Another gunman shot me six times.
"As he prepared to fire the first shot, I saw the look of hatred on his face - a face I will never forget."
At the funeral, the then Bishop of Down and Connor Cahal Daly angrily condemned not just the gunmen but all who supported them.
Mary Travers was a recently-qualified teacher who had been working at Holy Child Primary School in Andersonstown, west Belfast, and her primary three class were among the mourners.
She had been due to take them for their first Confession on the day she was killed.
Not long after the fatal shots were fired, Mary McArdle was arrested a short distance up the road.
The gunmen were never brought to justice, but she was convicted of murder, attempted murder, wounding with intent and a number of firearms offences.
She was jailed for life but freed 14 years later under the terms of the Good Friday Agreement.
One of her fellow prisoners was Caral Ni Chuilin, who would subsequently pursue a political career in Sinn Fein, rising to become the party's culture minister at Stormont last month.
In turn, she chose her old friend Mary McArdle to act as her special adviser.
Mary Travers' sister Ann said the news she had managed to secure such a well-paid job at taxpayers' expense had reawakened "uncontrollable grief".
Other politicians, including First Minister Peter Robinson, echoed her criticism of the appointment.
Sinn Fein say former prisoners remain central to the peace process and play a positive role.
Mary McArdle broke her silence on the matter in an interview with the Andersonstown News on Thursday, saying the murder of Mary Travers had been a "tragic mistake" which she regretted.
She said that since her release from prison, she had played a "constructive and positive role in winning and maintaining support for the peace process within the nationalist and republican community, not least among the community where I live and which has suffered enormously from the past conflict".
Ann Travers, whose father Tom died in 2009, said her remarks were not good enough.
"Rather than Mary McArdle and Sinn Fein saying her death was a mistake, what they should be saying is Mary Travers' murder is an embarrassment which has come back to haunt us."
Related Internet Links
The BBC is not responsible for the content of external sites.