McGurk's bar families protest at Policing Board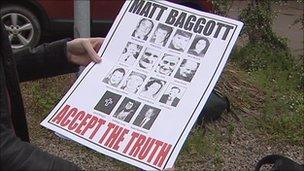 Relatives of the 15 people killed in the UVF bombing of McGurk's bar in 1971 have staged a protest outside the headquarters of the Policing Board.
They have criticised Chief Constable Matt Baggott for questioning the findings of a recent report by the police ombudsman.
It said the RUC was guilty of investigative bias.
A spokesman for the families, Ciaran MacAirt, said they wanted to know if Mr Baggott now accepted those findings.
"The question has arisen of an apology from the chief constable on behalf of the police," he said.
"We no longer want to hear an apology. That time has passed - after such a delay it would serve no purpose.
"What we do want to hear from the chief constable is if he now accepts the report of the police ombudsman - no ifs, no buts, or excuses and no more delays, for delays have exacerbated the trauma felt by our families."
The ombudsman's report said police wrongly blamed the IRA for the pub bombing.
It said the investigation was "not proportionate" to the magnitude of the attack and police failed to give "adequate consideration" to the possible involvement of loyalists.