Bomb 'thrown at Alliance Party offices', court told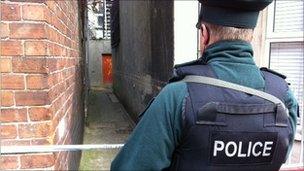 A pipe bomb was thrown into the Alliance Party's south Belfast headquarters in a dissident republican attack, the High Court has heard.
The device, which did not explode, contained bullets and pellets.
It was designed to cause maximum damage and potentially kill, a prosecution lawyer said.
Details emerged as a taxi driver accused of taking a suspected bomber to the scene last Thursday night applied for bail.
Francis Carleton, of Conor Rise, Belfast, faces a charge of possessing explosives with intent to endanger life or cause serious injury.
The 37-year-old denies the allegation and claims he innocently picked up a fare without knowledge of the pipe bomb.
Mr Carleton was arrested along with his co-accused, Barry Boardman, 43, of no fixed address, after the explosives were thrown over a wall at the rear of the Alliance Party offices in the University Street area, the court was told.
Mr Boardman was detained as he made his way back to the taxi where Carleton was waiting, according to the prosecution.
The taxi driver claimed he had been flagged down near west Belfast's Falls Road and asked to drive to the Whiterock area and Queen's University.
Crown counsel Philip Henry said Mr Carleton claimed when he parked the car close to the Alliance offices his co-accused got out and was out of sight for around 30 seconds.
Police intervened as Mr Boardman made his way back to the vehicle, the court heard.
Opposing bail, the barrister said police believed Mr Carleton was heavily involved in the bomb plot.
Although he stressed that the accused has not been charged with paramilitary membership, Mr Henry added: "There was a campaign of incidents by dissident republicans over May 26 and 27... designed to cause significant disruption within this jurisdiction, and police are of the view that this was part of that campaign."
Kieran Mallon, defending, strenuously rejected any suggestion that his client was involved in a coordinated series of incidents.
He said: "I submit to the court that this applicant had no part to play in it, and his involvement or connection to it was simply as a result of his taxi having been flagged down and asked to transport a fare to a particular part of the city."
Mr Mallon also emphasised that Carleton answered police questions after caution and provided details of his vehicle's movements.
"Those involved in paramilitary organisations do not answer questions during police interviews," he contended.
Mr Mallon added: "This individual responded to police cautions at the scene and responded to police during interview, which is more consistent with an innocent explanation than it is with a guilty inference that would arise from silence."
After hearing both sides the judge, Lord Justice Higgins, said he wanted to reflect on the application before giving his decision.
He is expected to deliver his verdict on Friday.