Britney Spears announces Belfast show at Odyssey Arena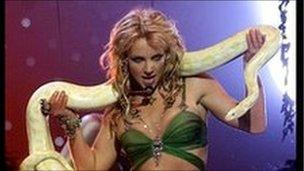 Britney Spears has sent Northern Irish fans 'crazy' by announcing her only current UK tour date in Belfast.
The American singer will bring her Femme Fatale world tour to the Odyssey Arena on 25 October.
The tour kicks off in Sacramento, USA on 17 June. Britney will perform tracks from her new album as well as a number of old favourites.
Britney last performed in Belfast in 2004, but has missed out the city on subsequent tours.
Northern Irish fans will no doubt remember the words of Britney's famous song Break the Ice - "It's been a while, I know I shouldn't have kept you waiting, but I'm here now."
Britney's last tour, Circus, in 2008 grossed $120 million and she played in London, Dublin and Manchester.
It is expected that the star will announce more UK dates in the coming weeks, however for the moment her only UK performance will be in Belfast, the night after she plays Dublin's O2 Arena on 24 October.
Britney said: "I can't wait to come back to the UK and perform for my fans there, it's been too long!"
In her 2008 tour Britney was criticised for lip-syncing and only performing one live track. The tour, which visited Dublin but not Belfast, had a circus theme featuring acrobats, dwarfs, Perez Hilton and the Big Apple Circus from New York.
Belfast fan Kayleigh Stevenson said: "I am so ecstatic, Britney in Belfast, I cannot wait!"
"I like that she announced Belfast as her first venue in the UK, it's so good for the city, especially with the MTV Europe Music Awards coming up, it's just so exciting."
Ms Stevenson insisted that she was unconcerned by the possibility of more lip-syncing in this year's show.
"I don't care, she is a performer not a singer, she has such a stage presence I'm not bothered if she sings. If she plays her old songs it will be so nostalgic, I'll probably cry."
When the MTV Europe Music Awards were last held in Ireland, at Dublin's Point Theatre in 1999, Britney was one of the biggest winners.
She scooped the awards for Best Female, Best Pop, Best Breakthrough Artist, and Best Song for her hit Baby One More Time.
Although it is expected that the singer will announce further UK dates in the coming weeks, Northern Irish fans certainly won't hold it against her. After all, it's her prerogative.
Related Internet Links
The BBC is not responsible for the content of external sites.