Council staff walkout over suspended worker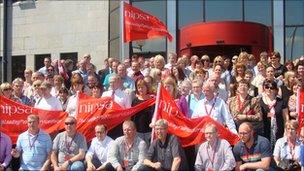 Workers at Derry City Council have staged an unofficial walkout in protest at the suspension of a colleague.
Unions have accused managers of using CCTV footage as evidence in a disciplinary case and claim it is against agreed procedures.
About 100 people took part in the protest outside the council's headquarters at 1300 BST on Thursday.
Derry City Council said all staff matters are dealt with in keeping with agreed procedures.
Delegates from the Northern Ireland Public Service Association (NIPSA) broke away from their annual conference in the city to join the 40 minute protest.
Alan Law from NIPSA said he received a letter from the council on 25 May confirming CCTV footage had been used in the case.
He called for the worker to be reinstated and an investigation into whether the proper procedures were followed.
"The council have completely ignored their agreed procedures in this case. They've used their CCTV system for a purpose for which it is not registered with the information commissioner," he said.
"The council's registration with the information commission states that their CCTV has been installed for the purposes of crime prevention and security. This matter has nothing to do with the prevention of crime and therefore the council have misused their CCTV images in this case."
Mr Law said he had been in touch with the council's chief executive on Thursday and is waiting for a response.
A spokesperson for Derry City Council said all staff matters remain confidential and are dealt with in keeping with agreed procedures.
"The Council will continue to work closely with the trade unions on all issues relating to staff policies and procedures," said a spokesperson.