Daniel Mooney scrambler accused withdraws release bid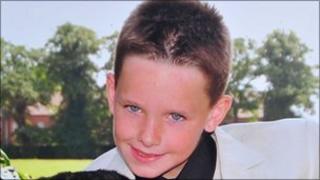 A man accused of causing the death of a schoolboy who fell off his motorbike has halted a bid for temporary release to see his newborn daughter.
Andrew Paul Morrow withdrew an application for emergency compassionate bail which had been mounted amid concerns about the baby's health.
The High Court heard his daughter has now been discharged from hospital.
He is to remain in custody on charges linked to the death of 12-year-old Daniel Mooney.
Mr Morrow, a 32-year-old window cleaner from Ardoyne Road, north Belfast, faces a total of seven charges, including causing death by dangerous driving, driving a scrambler while disqualified, without insurance and while unfit through drink or drugs.
He is further charged with failing to stop, failing to remain and failing to report an accident.
Daniel died last month from head injuries sustained after falling from the bike he was riding pillion at Mountcoole Park, north Belfast. He was not wearing a helmet.
'Suicide threat'
At a previous court hearing it was claimed that the accused threatened to commit suicide over what had happened.
He was said to have bought the scrambler recently and decided to take Daniel for a ride up into the Cavehill area.
Another motorcyclist who went with him is thought to have hit a bump in the road, crossed into Morrow's path and forced him to brake sharply, it was claimed.
The accused was said to have gone into a state of shock after seeing Daniel on the road, asked a passer-by to phone for an ambulance and then allegedly leaving the scene.
His barrister, Michael Boyd, told the High Court that the emergency nature of the bail application - based on the baby's jaundice and weight-loss - had been lessened by her overnight discharge from hospital.
Mr Boyd added, however, that Mr Morrow's partner was still upset and exhausted.
"The applicant would like to spend time with her simply to give her some support for a few hours and return back to prison."
But he was told by the judge that, on the basis of available information, his application "does not really get off the ground".
Mr Boyd agreed to withdraw it on the basis that a fresh attempt may be made if the situation changes.