Tom Elliott facing action over Ronan Kerr funeral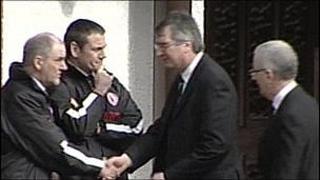 The decision whether to take disciplinary action against the UUP leader Tom Elliott for attending the funeral of Ronan Kerr is being discussed at a meeting of senior Orangemen.
The rules of the Orange Order prohibit members from attending Catholic masses.
But Mr Elliott and his party colleague Danny Kennedy attended the funeral of Constable Kerr in Beragh in April.
At least one letter of complaint has been received from a lodge in Belfast.
The issue is being discussed by the Grand Lodge's governing body, the Central Committee, ahead of the next meeting of the full Grand Lodge on 15 June.
The Ulster Unionist leader is a former County Grand Master of Fermanagh. Mr Kennedy is a member of a lodge in County Armagh.
At the time a spokesman for the Grand Lodge offered "sincere sympathy" to the Kerr family and said it was important they knew they had widespread support throughout the community.
A source said he would be surprised if the letter did not go before the Grand Lodge, but what would happen in that event is less clear.
A spokesman for the Grand Lodge said: "The internal business of Grand Lodge is a private matter."
However, Tom Haire, County Grand Master of Belfast said the letter had been passed on for consideration.
When contacted by the BBC, Tom Elliot and Danny Kennedy refused to comment.
A former Ulster Unionist leader and Orangeman David Trimble attended a funeral mass in Donegal for some of the victims of the Omagh bomb in 1998 without any action being taken.
Away from the public gaze it is known that some members do attend the funerals of Catholics without censure.