Peace Bridge could halt free school bus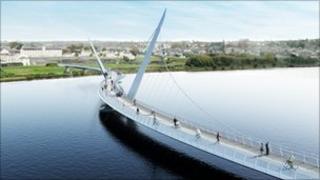 A school principal has said she is worried a new footbridge in Londonderry could make some of her pupils ineligible for free school transport.
The £13m Peace Bridge across the river Foyle is due to open on 25 June.
Kathleen Gormley of St Cecilia's College said about 100 pupils could be affected.
Under the legislation, children are not entitled to free transport if they live within three miles of their school.
Kathleen Gormley said parents would be unhappy if children are stripped of their free travel.
"I think a three mile walk would be lovely on a morning when the weather is good, but imagine walking across the bridge over the Foyle in some of the recent weather we've had, such as the snow," she said.
"I really would fear for the children's health and safety.
"The number of school buses and free transport has fallen considerably in recent years, but in this case we would like the status quo to remain."
The pedestrian and cycle bridge will link the cityside to the Waterside and has been described as a significant project in the regeneration of Derry.
Ms Gormley said the exact route will have to be confirmed before any decision is made.
Destination
"If they're going to have a new policy in place by September then the children who walk over the bridge will need to know exactly what the path is beyond that," she said.
"I know you can get on the bridge on the cityside and walk to the other side, but where do you go then? I'm not sure of its final destination at the minute."
In a statement, the Western Education and Library Board said the opening of the bridge would give pedestrian and cycle access from the Waterside to the cityside, which meant some pupils would lose their entitlement to Home to School Transport Assistance.
It said a survey to determine eligibility is underway and will not be completed until all Year 8 pupils have been placed in post-primary schools.
The board will then measure the distances for all pupils affected by the opening of the Peace Bridge.
The parents and guardians of those pupils who fail to meet the criteria will be contacted and informed by the board.