Four 'super injunctions' in Northern Ireland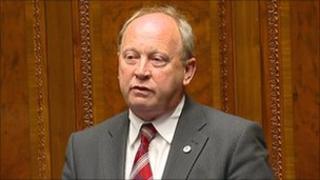 It has emerged that there are four super injunctions in place in Northern Ireland.
The information was contained in an assembly answer from David Ford to the TUV leader Jim Allister.
Mr Allister was asking questions of the justice minister and was told four such injunctions have been awarded in the High Court Northern Ireland since 2007.
The North Antrim MLA said he hoped the information "may stimulate some necessary debate" on the issue.
"The mystery and secrecy surrounding injunctive relief is generally not healthy, nor does it sit comfortably with the transparency expectations of a modern society," Mr Allister said.
"Thus, establishing that there have been four 'super injunctions' in Northern Ireland contributes in a small way to redressing the balance of secrecy."