Catholic Apostolic Visitation response criticised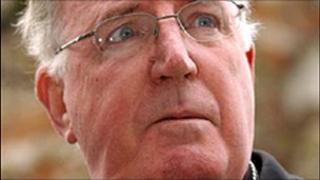 Victims of clerical sex abuse have criticised what they call the slow response of a team sent by the Vatican to investigate the issue.
The church sent what its "Apostolic Visitation", consisting of two Cardinals and three archbishops.
It followed the publication of reports into abuse in Catholic institutions and in the Dublin archdiocese.
It has now completed its tour of inspection, which included public meetings on both sides of the border.
However, campaign groups described the process as a "holding operation" which proves the church has nothing to offer victims.
In a joint statement Margaret McGuckin, Jon McCourt and John Meehan said: "Six months ago, Survivors/Victims of Institutional Abuse sought a meeting with the visitation in good faith, but we have not heard a thing back from them since and we are sorely disappointed by the lack of any outcomes?
"Even this latest Vatican statement only offers an "overall synthesis", whatever that is, by early next year.
"That means nothing and offers nothing to the victims of child abuse on both sides of the border.
"Sadly, it seems clear that the Catholic Church is institutionally incapable of responding to the child abuse crisis, that is why Victims in N. Ireland now look to the NI Executive to establish an independent public inquiry into child abuse in both church and state-run institutions."
The inquiry panel - made up of five senior prelates - held meetings across Northern Ireland and the Republic.
The panel was made up of Cardinal Murphy-O'Connor - the retired archbishop of Westminster, Cardinal O'Malley of Boston, Archbishop Timothy Dolan of New York, Archbishop Thomas Collins of Toronto, and Archbishop Terence Prendergast of Ottawa.
In a statement on Monday, the Catholic Church said: "The visitation to the four metropolitan archdioceses, the seminaries and the religious institutes has been very useful, thanks to the co-operation of everyone who took part in this initiative.
"The Holy Father's sincere thanks goes to them, especially to the four metropolitan archbishops."
It added: "As far as the Irish dioceses and seminaries are concerned, the Congregation for Bishops and the Congregation for Catholic Education do not envisage further Apostolic Visitations.
"Having encountered various organizations and individuals, the visitators have been able to arrive at a sufficiently complete picture of the situation of the Irish Church with respect to the areas under investigation."
It said the Holy See would publish an "overall synthesis" by early next year indicating the results and the future prospects highlighted by the visitation.