Sinn Fein 'should consider' Travers killer appointment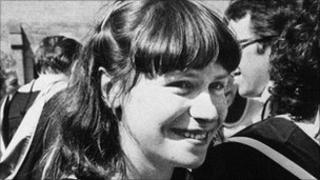 The incoming Presbyterian moderator has said Sinn Fein should consider its appointment of a convicted killer as a Stormont special adviser.
Mary McArdle, who was jailed for murdering Mary Travers in 1984, was appointed following the election, angering the Travers family.
"I am not going to tell them what they should do," Reverend Ivan Patterson said.
"But I think there is a need that they reflect."
Mary Travers, 22, was shot dead by an IRA gang as she left Mass with her father, Magistrate Tom Travers, in 1984.
Ms McArdle, who is working as an adviser to the Culture Minister Caral ni Chuilin, was later jailed for life for her role in the attack.
'Foxes in the hen house'
On Monday, Mary Travers' brother Paul, who now lives in Australia, called on Ms McArdle to resign.
"On that day our family was shattered by the actions of this woman," he said.
"If we don't put some structure around how these appointments are made we are going to have foxes in the hen house and I just don't know if it is something we, as a community, are able to stomach."
Last week, in an interview with the Andersonstown News, Ms McArdle said that the killing was a "tragic mistake" and that she regretted that it happened.
First Minister Peter Robinson has asked Finance Minister Sammy Wilson to review the appointment of special advisers, a move backed by the SDLP and the Ulster Unionists.